"Mitra" is a Bharatanatyam Margam that explores intersections in the themes of Indian poetry. The concept of prema, or eternal love, is age-old and performed by many performers from the temple to the proscenium stage. But what makes it so relevant to have margams feature this theme over generations of Bharatanatyam practice?
Originally a solo Bharatanatyam production now developed especially for Dhvani in an ensemble, "Mitra" proposes that friendship is necessary for all relationships. Together, the dancers traverse the lyrics of poets such as Tiruvalluvar, the Tanjore Quartet, Swati Tirunal, and Jayadeva. By exploring a vast range of languages but narrating ideas of friendship in English, "Mitra" builds a bridge between the viewers and performers of Bharatanatyam.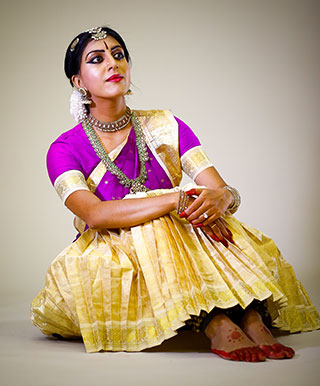 Srinidhi Raghavan started learning Bharatanatyam nearly thirty years ago and has performed globally over the decades. Born into a family of dancers, she was exposed to Bharatanatyam early on and formally started learning the art at the tender age of four. She had her arangetram in Chennai in 1998 and her experiences with dance have spanned several cultures and countries, including those of the UK, Switzerland, France, Italy, Liechtenstein, Barbados, Canada, the US and of course India, during the prestigious December festivals in Chennai. Known for her "precise nritta and apt abhinaya" (The Hindu) she is also recognized for her innovative choreographies and original works, which often explore contemporary themes via traditional Bharatanatyam pieces. Srinidhi is a graduate of Columbia University and also holds an MBA from The Wharton School, University of Pennsylvania. She currently lives and works in New York City and continues to perform globally, both in her own productions and via various collaborations.
Arun Mathai began training in Bharatanatyam under his guru, Smt. Sundara Swaminathan, at Kala Vandana Dance Center, based in San Jose, California, and completed his arangetram in 2000. He moved to Los Angeles to attend the University of Southern California and began exploring other styles of dance, including bhangra, Bollywood, garba/raas, hip hop, tap, and jazz. After graduation, he joined LA-based Blue13 Dance company, the premiere contemporary Indian dance company in the US, and was a principal dancer with the company for over eleven years. Through it all, Bharatanatyam remained a focus for Arun. He often returned home to the SF Bay Area to rehearse and perform with his guru and classmates. He also began traveling abroad, both to study with renowned teachers and to perform. Some of the respected instructors Arun has studied with include: Smt. K.P. Yasodha, Smt. Rama Vaidyanathan, Smt. BraghaBessell, Sri Hari Padman, and Smt. Viji Prakash. He has performed across the US and in Canada, Mexico, India, France, and Morocco. He remains ever grateful to his guru and teachers for their continued guidance and blessings on his journey as a dancer.
Preethi Ramaprasad is a multifaceted dancer, educator, and musician who has toured India, Europe, and the U.S. A disciple of Prof. Sudharani Raghupathy in Bharatanatyam, she is also trained in music, dance, and yoga. Preethi is also committed to furthering the reach of Indian classical dance and music around the world through scholarship and educational opportunities. She curates San Francisco's first Indian choreography festival, When Eyes Speak, which was featured with SF Arts, inDance, and was included as a "Critic's Pick" in the San Francisco Chronicle. Preethi teaches dance workshops on Bharatanatyam at venues like Juilliard School of the Arts, Columbia University, and the American International School. Some of her accomplishments include Yuva Kala Bharati from Bharat Kalachar, Guru Sanjukta Panigrahi Award from Krishna Gana Sabha, Lead Resident Artist Fellowship at SAFEhouse Arts, San Francisco; Trinity Festival Award from Chennai, India; Bigel Research Travel Award, Rutgers University; and the prestigious National YoungArts Scholarship which led to her being featured in the Oscar-nominated documentary, "Rehearsing a Dream." A keen researcher, Preethi is a doctoral student at the reputable UC Riverside Critical Dance Studies Department.